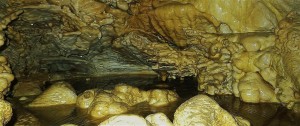 Caves are some of the worlds most spectacular creations and are visited by thousands of spelunkers every year.  The attraction seems to be the challenge of crawling around underground and seeing an ecology that very few species on earth get to witness.
Combine that with some of the most beautiful and captivating photography opportunities and you have the perfect backdrop for an adventure of a lifetime.
Cave exploration has been done by scientists and cavers for hundreds of years.  Speleology is the term given to natural cave exploration for science. Today there are organized groups all across Canada.
How Are Caves Created
Caves are naturally occurring hollows or sinkholes that are usually found in limestone or gypsum type rock formations.  However, they can also be carved out through the process of hydraulics like the ocean waves slapping up against a coastline.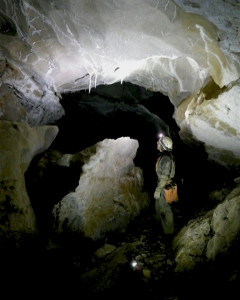 In limestone the water seepage from rainwater creates carbonic acid which eats away at the rock and forms caves.  Fast running rainwater turns into rivers which further erodes the limestone in a process called corrasion.
Volcanic processes can also create caves when the lava flows and creates a tube like structure where the outside layer cools and the inside lava continues to flow until nothing remains.  A sinkhole may occur thereby creating the opening to the lave tube or cave.
Caves have formations called stalactites (hang from the ceiling) and stalagmites (point up from the floor) that can be very beautiful and huge depending on where they are located in the cave itself.  These formations or speleotherms as they are known in the science community are formed when calcite is created through the process of carbonic acid eating away the limestone.  The calcite laden water is then dripped upon the cave floor creating the speleotherms.
The Island of Caves
Vancouver Island is sometimes called the "Island of Caves" due to the 1000+ caves that have been recorded since 1970.  1200 square km of Vancouver Island is karst or 4% of its surface area.
The caves on Vancouver Island are well developed due to the extensive amount of rainfall in the region.  The mountain terrain, soil and vegetation also contribute to the remoteness and preservation of the caves.
The number of caves on Vancouver Island that have been explored total more than all the other provinces of Canada combined.  Some of the deepest and longest caves in Canada are present on Vancouver Island.
The Caves of Nootka Sound
Nootka Sound is known to have approximately 50 recorded caves. Most of them are hard to find without someone or some group who has visited them before.  They are located in the rugged mountains surrounding the sound and small communities that inhabit the area.  Below are some of the more popular and recorded systems along with their difficulty ranking and location if known.
Coral Caves
Coral Caves discovered in 1970 on the west side of the Village of Tahsis are a spectacular system that features a subway like entrance that plummets downward to a water filled abyss.
Good climbing skills are a must in this system that is located by the lookout above town. Caves of this nature should be avoided during a freshet or rain event due to the amount of flooding that occurs in systems in a karst environment.  This system is ranked moderate to high risk.
Little Huson Cave Regional Park
This beautiful little system lies in the Little Huson Lake watershed and is located on the Zeballos road 9 km off of the Island Highway just north of the tiny logging community of Woss.
This park is located on the Atluck Creek canyon that flows from the Little Huson Lake.  It is a day use only park but camping and overniters can stay a short distance away at Atluck and Anutz Lakes.
The caves are self guided and ranked easy to moderate with experiences for all levels of spelunkers.  There are lots of interpretive signs placed along the site to provide information on the time required to complete the trip and statistics about the cave.
Here is a pdf map of the area for you to download.
Thanksgiving Ridge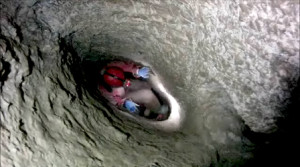 Thanksgiving caves are located above Head Bay at the end of Tlupana Inlet and accessible by a logging road that isn't well marked. It's best to go there with a group who has experience.
The Vancouver Island Cave Exploration Group is one of those groups. These caves are not for the faint of heart as they are extreme, treacherous and repelling experience is a must.
The caves are the deepest on Vancouver Island at 408 meters deep and over 7588 meters long. They are ranked as the fourth deepest caves and sixth longest in all of Canada.
Upana Caves
The most popular and visitor friendly is Upana Caves. With a total overall length of 450 meters (1476 ft) and 15 entrances, the caves are easily accessible. They are self guided so come prepared and unless you are very experienced never explore caves with less than 2-3 people for safety reasons.
They are roughly 10-15 km west of Gold River on the Head Bay Forestry Road to Tahsis just past Upana Lake. Driving time is about 20-25 minutes or less depending on your speed. The road is gravel and can be a little rough sometimes depending on the weather so drive carefully. You will also meet large logging trucks at certain times of the year.
Upana Caves had a moment of fame in 1979 when an underground episode of the television series called "Huckleberry Finn and His Friends" was filmed at the caves. Locals still talk about the fun they had when watching the filming take place.  They are ranked easy to moderate.
Here is a pdf map created by Western Forest Products for public use.
Weymer Caves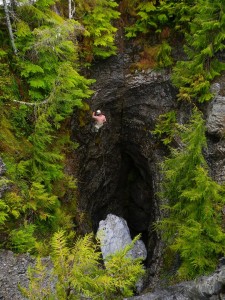 5 km southeast of Tahsis is another popular and exquisite cave system know as Weymer Caves. Nestled in Weymer Creek Provincial Park this system also has some of the longest and deepest caves on the island.
Keens Long-eared Myotis bats a red listed species resides in this system along with other well know bat species. Care should be taken to not disturb them at all costs.
Weymer caves are a moderate to high risk ranked exploration so only experienced or guided visitors should venture into this system. There are plans to create a management plan for this system to keep it protected.
White Ridge Provincial Park
White Ridge Provincial Park is located on the east side of Gold River in the mountains.  Access is hard to find as you have to take a logging road that leads to Kunlin and Donner Lakes and branch off on a grown over road that leads to the ridge.
Known for some of Canada's longest and deepest caves some black bear bones were discovered in the caves that were tested and shown to be over 9000 years old.  This gives them the distinction of being the oldest large mammal remains ever to be found on Vancouver Island.
This system is not for beginners due to the fast moving water hazards present inside and also has many exposed climbs that present a challenge even to the most experienced cavers.
In 2003, there was a "Purpose and Zoning Plan" undertaken by the province to help define the sensitive area that the park is known for.
Caving and Spelunking Information
There are some excellent groups and associations that are involved with the investigation, statistical collection and maintenance of the caves on Vancouver Island. One of them is the Canadian Cave Conservancy and another one is Canadian Caver.
Caving Etiquette
Caving should be done with a certain mindset and environmental ethics when visiting these exquisite and sensitive natural areas. Here is a link to a US created pdf detailing some caving etiquette and rules to follow.
Remember the cavers motto:  Take nothing but pictures, kill nothing but time, leave no trace!
To Sum it All Up
Caving in Nootka Sound hasn't been exploited by any commercial ventures and is mostly done by interested self guided tourists and the Vancouver Island Cave Exploration Group along with some local residents.  The Little Huson and Upana Caves are the most used by tourists who come to the area and are both self guided and ranked as easy to moderate.
Here are some short guidelines for planning your next spelunking adventure:
Headlamp, one per person
Spare Flashlights
Warm, water resistant clothing (dress in layers)
Hiking boots
Helmet (preferred) with a chin strap (even a hard hat is better than nothing)
Bottled water (running water in and around cave systems is not potable)
Small light weight pack with a small first aid kit and snacks
light weight camera with flash or use flashlight
Emergency plan in case of something going wrong
Always go with two or more other cavers for safety
IMPORTANT!! – never go caving alone, always tell someone your plans and destination along with your estimated time of return.  Most of all be careful and  have fun!