Seeing Nootka Sound by Air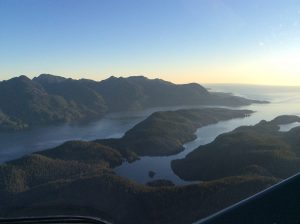 One of the most beautiful ways to tour Nootka Sound is by air. Air travel has been a staple of transportation on Vancouver Island since the early days before road access existed to most communities.
Our local airline is well known for exciting and exhilarating flights to some of the most remote regions of Nootka Sound.
Air Nootka offers their services from Gold River to the surrounding areas.  They offer scheduled flights as well as chartered flights to a variety of destinations for hiking, fishing and sightseeing.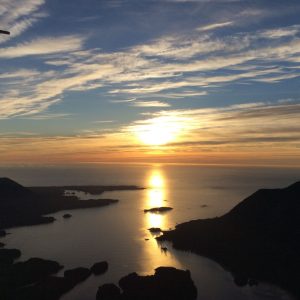 Some of the more popular destinations are: Cougar Annie's Garden, Hesquiat Trail, Hot Springs Cove, Lunch in Tahsis, Nootka Sound, Nootka Island Trail, Rugged Point, flyfishing and/or picnicking to nearby mountain lakes.
Make sure to pack you camera if only taking a day scenic flight as you will be subjected to some of the most pristine and beautiful wilderness canvasses that Mother Nature has to offer.
Imagine having a whole lake to yourself – it is only you, the wildlife and nature. It's a beautiful mountain view everywhere you look and you are the only one around for miles. It is not just about the wilderness experience once you arrive at your destination, but also the journey you take to get there!
Witness the beauty of the Vancouver Island Mountains as you and your party are flown by an experienced bushpilot to your wilderness gateway via floatplane from Gold River. There is no better way to spend your adventure excursion in Nootka Sound than hopping on a float plane or helicopter and flying into the remote wilderness lakes that abound here.
One of the more popular adventures is hiking the Nootka Island Trail which is a 5-7 day hike depending on how much time you want to spend walking along the sandy beaches or camping at the lakes and rivers along the way. It is a magnificent, unspoiled wilderness trail with lots of different things to do along the way.
Beachcombing, bird watching, body surfing, history lessons, sea cave exploration, surfing and wildlife viewing are just some of the many things to do when visiting the area of first contact between indigenous people of British Columbia and white Europeans.
It also offers unbelievable surf breaks, sea otter and whale sightings, significant First Nations artifacts, and a fascinating colonial history that dates back to Captain James Cook's discovery of B.C.
The Summer Salmon Fishing Debacle
Flying over Nootka Sound during the summer months you will witness one of the most popular adventures that visitors to our area come to experience.
The waters are full of recreation fishing boats who are seeking the mighty salmon for their pleasure or freezer. One can only truly experience this spectacle properly from a plane. Some years there are over 300 sport fishing boats on the water in Nootka Sound.
From the air it looks like a Dick Tracey cartoon where there seems to be no structured or organized method to their madness.  However, these same anglers come year after year to join the same group of boaters seeking the large Chinook Salmon the area is know for.
Sightseeing and Fishing From a Helicopter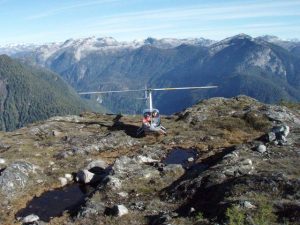 Helicopters are an awesome way to experience the magnificent scenery of the Nootka Sound area. Fly up to the Malispina Glacier and set up your tripod and start shooting some spectacular photos.
The amazing sunsets and sunrises that exhibit their warm colors and rays of warmth across the landscape of Nootka Sound are truly appreciated when viewed or photographed from a helicopter or floatplane.
Fly into remote lakes for the day to do some flyfishing or hiking to caves (White Ridge Provincial Park) for exploration that cannot be easily accessed by road.
The local heli pad is operated by E&B Helicopters and offers various packages for outdoor enthusiasts depending on what it is they're wanting to experience. There is no better way to access the rugged mountain peaks or glaciers that exist in the Gold River region.
The Lodge at Gold River also offers fly in fishing adventures using helicopters to access the local remote lakes. This is a first class wilderness experience from a first class lodge on the banks of the Gold River.
Once you witness the beauty and serenity of Nootka Sound by air, you will treasure the memories for ever and constantly talk about the many adventures that await which can only be accessed by float plane or helicopter to all of your friends and acquaintances.