As an avid outdoors man one of the things I enjoy doing the most is camping. Living in Gold River affords me the opportunity to do as much camping as I like due to the number of places to do it. There are many lakes and rivers in the area where one can hike in and set up camp. There are also a lot of places where you can drive to with your motor home or camper.
During the peak summer months some campgrounds cost money to stay at and others are still free but limited as to how many spots are open. Regardless the ones that cost are reasonable and well maintained so sometimes the added cost is worth the effort.
There are places to camp on the ocean also that provide excellent amenities and boat access. The downside is that you will have to travel a little further outside of Gold River to get to them. Once you are there however you will be impressed with all they have to offer.
Local Campgrounds
Close by the village of Gold River is the local campground on the river itself which is only a 5 km west of the town.  There are 20 campsites with pit toilets, picnic tables and fire pits. The fee is $18 per vehicle per night.  There are group rates available if you ask the host.  This is a popular campsite during the summer months and hunting season. Kayakers use this as their base campground when kayaking the Heber and Gold Rivers.  A camp host is available for more information by contacting Ken Smith at 1-250-283-7969.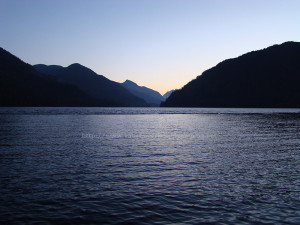 Muchalat Lake campground is a beautiful site on a very large lake with plenty of trout to be caught.  There are 40 campsites with picnic tables, fire pits and pit toilets. A camp host is there to take your fee and provide more information. There is also a boat launch and boomed in swimming area with a nice beach.  I have spent many weekends here in my camper and can tell you it is remarkable.
Nootka Sound Campsites
Further out along the Head Bay Forest Service Road to Tahsis is access to four well known campgrounds two of which have to be accessed via the Nesook Mainline (well signed) which heads southwest.
Cougar Creek Recreation site is a 60 site area alongside the ocean with a boat launch, parking, pit toilets (1 handicap), fire pits and is nestled inside a stand of old growth forest next to a creek that runs into Tlupana Inlet. I can also speak highly of this site as I camp here regularly during the off season.  The campground is quite crowded during the summer months with avid anglers looking to catch a trophy salmon.
Tuta Marina is another campground located 10-15 km further down the Nesook Mainline past Cougar Creek.  It offers a marina for your boat, 32 sites, picnic tables and fire pits.  This is also a great spot to camp with a beautiful sandy beach nestled between two rocky outcrops that surround the bay in which the marina resides.
Back on the Head Bay Road past the Nesook turn off is the Conuma River campsite with 5 spots to set up camp next to the river.  There are no picnic tables or fire pits.  This site is just a day area turned into an overnight site for fisherman.  Very popular in the winter for Steelhead and in the fall for Coho Salmon.
Another 10 minutes past the Conuma River campsite is a resort called Moutcha Bay.  This campground caters to a larger crowd offering serviced and non serviced sites.  There are public washrooms and showers available.  A boat launch and marina is available also.
Although you must drive a fair distance to get to these campgrounds they are well worth the effort and provide an outstanding experience.  The chamber website has more information and links to each of them.
Strathcona Park
If driving is something you don't mind doing then having Strathcona Park next door to us provides added opportunities to camp in both provincial and park campsites. As well there are many places to hike trails in the park that cater to the experienced and non-experienced.
Two of my favourite places to hike into and set up camp are the Crest Mountain Trail and Elk River Trail. Both offer exceptional scenic views and have places where you can set up a tent and spend the night or stay for a few nights. Remember that open fires are banned year round in Strathcona Park unless in an authorized BC Parks fire ring.
Of course there are many more hiking trails and campsites within the park to visit. Ralph River Campground, Buttle Lake Campground and the reservation only campground (Driftwood Bay) next to the Buttle Narrows Campground are three to check out. Check with the park office or website to find out availability of the sites and to make a reservation especially during the summer months.
Trails like Bedwell Lake (6km-3.5 hr), Cream Lake (8.5km-7 hr), Crest Mountain (5km-4 hr), Elk River (11km-5 hr), Flower Ridge (6km-5 hr), Marble Meadows (6.6km-6 hr), Phillips Ridge (6km-4 hr), Price Creek (8.5km-7 hr), Tennent Lake/Mount Myra (7km-5 hr), and Upper Myra Falls (3km-2 hr) are exceptional trails to hike with some of them being very steep and demanding while others are moderate. For more information check out their website.
Other short and easy to moderate hiking trails to visit include Auger Point (5 min loop), Elk River Viewpoint (400m-10 min), Karst Creek (2km-45 min), Lady Falls (900m-20 min), Lower Myra Falls (1km-15 min), Lupin Falls (800m-20 min), Shepherd Creek (1.5km-45 min) and Wild Ginger Loop (15 min).  For more information check out the park webpage.
To Sum it up
Camping in the Gold River and Nootka Sound area is an outdoor adventure that will leave you awestruck at the beauty and exhilarating experiences.  Next time you and your family discuss going camping seriously think about giving the Gold River/Nootka Sound area a try.