Caving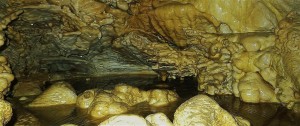 Sometimes referred to as the "Island of Caves," Vancouver Island comes riddled with over 1,000 caves — more than any other area in Canada — with the Upana Caves near Gold River being among the most spectacular. So spectacular in fact that Gold River, with more than fifty caves nearby, serves as home to the B.C. Speleological Federation for the scientific study of natural caves.
The caves owe their existence to the action of ground water seeping into limestone rock and combining with carbon dioxide to produce a weak solution of carbonic acid. This acid acts slowly to dissolve the limestone and to form underground caves and passageways and other fascinating formations including stalactites and stalagmites, those icicle-like rock forms.
With fifteen known entrances, the Upana Caves, about 17km from Gold River, contain nearly 1500 feet of passages and requires approximately an hour to complete a self-guided tour. Pathways and steps allow amateur spelunkers — those who explore caves — to visit the fifteen known semi-developed ones. Once underground watch for the Upana River as it emerges for a 90-foot stretch through the Main cave before disappearing, but it reappears later in Resurgence Cave, the walls of which have been transformed by heat and pressure into smooth, white marble. Film producers used the caves when filming scenes for the television series "Huckleberry Finn and His Friends."
Spelunkers must bring warm, water-proof clothes, sturdy boots and flashlights. Helmets optional, but recommended.
Crest Creek Crags has over 100 routes to test your climbing stamina. These rock walls draw climbers from around the world. Every local climber can tell you stories about when they were on the Crag
Camping & Picnic Areas
Although nearby Strathcona Provincial Park has a number of well equipped larger camping areas featuring hookups, there are many smaller wilderness campgrounds in the region.
Some of these wilderness campgrounds are land based, some marine accessible and all are in spectacular wilderness settings. Best of all, many charge no camping fees, only asking that users respect the facilities and follow the old boy scout maxim to leave the site in the same or better condition than you found it. Click here for detailed information on local campsites or here for an article on camping in Gold River.
For more detailed information on the various Provincial sites, click here and then click on the different campgrounds on the map for detailed descriptions of amenities and rules governing use.
Golfing
Gold River's Golf Course sits amidst a vibrant forest of Hemlock, Pine, Red Cedar and Douglas Fir. Half the fun of playing this course is the spectacular scenery one encounters both playing it or on the drive to it. Gold River Golf Course is a 9-hole course, but very challenging. With a plush fairways and small greens, players are often forced to play some terrific target golf.
If you would like to play our fascinating public golf course, please contact us at:
Telephone: 1-250-283-7266 (pro-shop) Fax: 1-250-283-7266
Hiking & Biking
In and around Gold River there are various hiking trails for outdoor enthusiasts to enjoy.  Each trail will challenge you and provide many opportunities to connect with nature.  If you are looking for a quick fix or a longer trek, there is something for everyone. Click here for the list and description of the trails. For mountain biking which is fast becoming a popular sport in Nootka Sound check out our blog article on mountain biking.
Mountain biking enthusiasts soon discover the unending trails in the mountains surrounding Gold River, where locals have constructed trails with jumps and obstacles. A number of competitions bring riders from western Canada and the Northwestern USA to test their skills.
Adventure Trail

With the famed West Coast Trail becoming so crowded that people planning to hike it need reservations a year in advance, the Nootka Island Trail offers a 35 km hike through the same kind of wild, pristine wilderness, but without the crowds.  Most start at the north end of the trail, arriving there by seaplane, or get a boat or water-taxi to drop them off at Louie Bay, just south of the Nuchatlitz Inlet. Consisting almost exclusively of beach walking, the hike allows for viewing of black bears, wolves, cougars, eagles, sea otters, whales, and sea lions in a natural and unspoiled setting. Other highlights of the trail include showering under Calvin Creek waterfall; swimming and body surfing in the ocean; exploring ancient middens and mounds where long houses once stood; investigating the life in tidal pools, and beachcombing for treasures deposited from across the ocean. Hikers arrive four or five days later at Yuquot, or Friendly Cove where the MV Uchuck III makes bi-weekly pick-ups.  Challenging and not a trek for the unfit or faint hearted, the Nootka Island Trail offers immense satisfaction for those who hike it. If you're looking for something a little less strenuous that only takes a few hours, nearby Strathcona Provincial Park offers numerous improved trails to explore. These trails are suitable for all ages and fitness levels. This is a great way to get out with the entire family and experience the quiet beauty of the wilderness.
Skiing & Snowboarding
Mt. Cain
For the ultimate winter weekend getaway for family and friends visit Mt. Cain. This ski area is well known for its awesome trackless powder. The Mountain opens in mid December (snow permitting) and closes at the end of March or in early April.
Before Christmas the mountain is open Saturday and Sunday from 9:30 a.m. to 3:30 p.m. After Christmas the mountain is open Saturday, Sunday and on those Mondays when school groups are scheduled. On Mondays, only the lower t-bar and handle tow will be in operation and half day rates will be charged all day (a real bargain!). Visitors should call the Snow Line ahead of time to confirm Monday openings.
Ski Terrain: The majority of the lower runs are groomed while the majority of the runs on the upper T-bar are left ungroomed for sheer powder pleasure.
Terrain: Beginner: 20% • Intermediate: 45% • Advanced: 35%
Number of Trails: 18
For more information, please go to www.mountcain.com